Welcome Gifts That Align With Your Company Values And Mission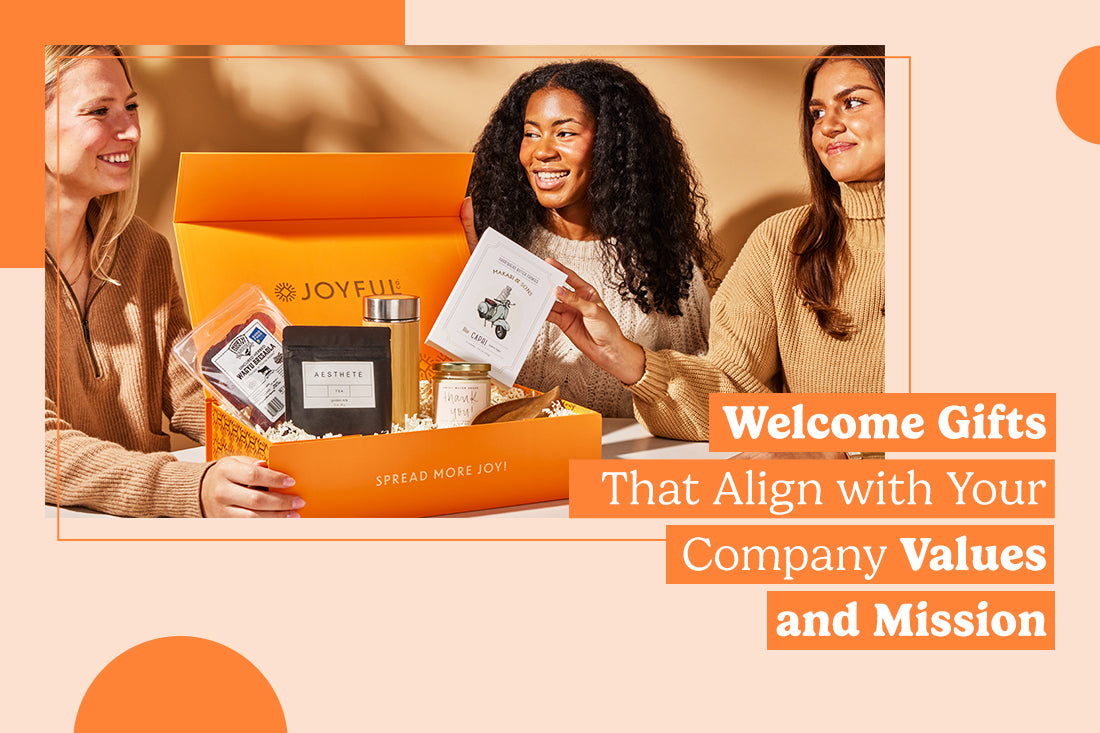 Corporate gifting can say a lot about the value you give to your employees. A single token that marks the welcome of a new member or the onboarding of a new client can go a long way. Sure, a little company swag is nice to have, but what about sending a gift they'll truly love?
First impressions are everything, you can either make or break your image in a second. We created the Joyful Co. Welcome Box as the perfect gift for welcoming a new team member. 
The Sweet Surprise: Makabi & Sons Vanilla Earl Grey Cookies
Who doesn't love a touch of sweet? Well everyone considers it the best way to start or welcome something new! Our gift box includes a pack of delicate Vanilla Earl Grey Cookies that are sweet and delicious! 
A Touch of Elegance: Brightland Orange Blossom Honey
Imagine opening a jar of aromatic orange blossom honey! It immediately lights up your mood doesn't it? The golden nectar symbolizes the sweetness in the relationships that you'd wish to continue to have with your teammates. 
Quenching the Thirst: Brooklyn Brewed Sorrel 
Busy work days can come and go at your workplace, what is extremely crucial is to stay hydrated! This box contains a refreshing sorrel beverage which is rich and unique, leaving you recharged and refreshed!
Illuminating Growth: Riverside Grace Success & Prosperity Crystal Candle
The Success & Prosperity Crystal Candle adds a touch of elegance and inspiration to your gift box. It gives out positive vibes and tells people that you welcome them with warmth in your heart, ultimately denoting their bright future ahead!
Clean Hands, Warm Hearts: Lemongrass + Coconut + Pineapple Scented Hand Sanitizer
Personal hygiene whether at home or workplace is extremely important, the pandemic definitely taught us that! Our gift box features a mildly scented hand sanitizer with the blends of lemongrass, coconut and pineapple. It not only keeps your hands clean but leaves a fresh tropical scent behind that uplifts your spirits!
Wrapping Up
Your company's values are reflected in the way you welcome your teammates! All of our gift boxes feature products by women and/or underrepresented founders. You can now create an impression that sets the perfect stage for successful employment and growth. 
At Joyful co. We do not just create gift boxes, but we understand the importance of these moments, and we're dedicated to helping you make them special. Our gift box is just one of the many ways we can help you in making your team members feel valued, appreciated, and right at home.
So, what are you waiting for? Welcome your new team members and clients with open arms and a beautifully crafted gift box from Joyful co. It's more than just a gift box, it's the beginning of something wonderful.
Get started by requesting a quote here 
Ordering one off boxes? You can order right from our shop page