5 Steps to Host a Happy Hour at Home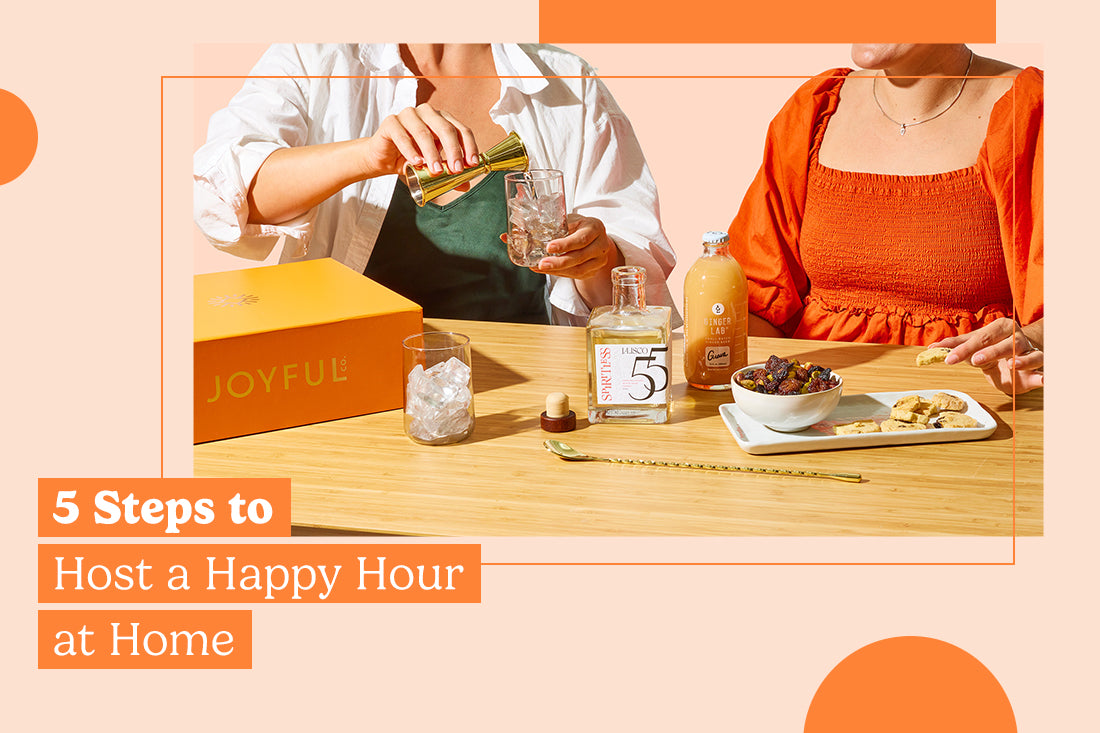 Happy hours are a fantastic way to unwind, socialize, and enjoy some quality time with friends and family. While going out to a bar or restaurant for happy hour is a popular choice, hosting one at home can be just as enjoyable and budget-friendly. Plus, it allows you to customize the experience to your preferences. If you're interested in hosting a successful happy hour at home, here are some tips and ideas to get you started:
1. Create a Welcoming Atmosphere and choose a theme: 
Set the mood with the right ambiance. Play some background music, dim the lights, and light some candles or use string lights for a cozy atmosphere. Arrange seating so that everyone can comfortably chat and relax. Themes can make your happy hour more fun and exciting. Whether it's a tropical luau, a wine and cheese tasting, or a classic cocktail hour, having a theme can help guide your menu and decor choices.
2. Creating the Cocktails and Mocktails: 
Your happy hour can include non-alcoholic and/or alcoholic beverages and you should have a variety of options on hand. Offer a selection of spirits, mixers, and garnishes. Don't forget non-alcoholic options and mocktail ingredients for guests who prefer not to drink alcohol. The Joyful Co. Thirsty Box is the perfect gift for happy hours and contains a great selection of non-alc spirits, mixers, garnishes, and cocktail tools to craft your perfect cocktails and mocktails
3. Add Delicious Snacks: 
No happy hour is complete without some delicious snacks. Consider finger foods like sliders, bruschetta, mini quiches, and cheese platters. Make sure to include both savory and sweet options to cater to different tastes. Ask your guests about any dietary restrictions or preferences in advance. This will help you plan your menu to accommodate everyone, including those with food allergies or dietary restrictions. The Thirsty Box comes with two delicious snacks to munch on.
4.  Plan Some Activities: 
To keep the conversation flowing, plan some activities or games. This could be as simple as a deck of cards, board games, or a playlist of interesting conversation starters. Attend to your guests, and don't forget to enjoy the event yourself. After all, it's your happy hour too!
5. Capture the Moment: 
Set up a designated photo area with props for fun and memorable pictures. Share the photos on social media or create a digital album to relive the moments later.
The Perfect at Home Happy Hour Kit
We curated The Thirsty Box as the perfect kit for making Happy Hour easy to host at home. It includes non-alcoholic drinks and mixers to create your perfect cocktail or mocktail, along with some delicious snacks.
Here's What's Included in The Thirsty Box:
Non-Alcoholic Tequila Alternative to keep you sober and joyous
What better than a Tequila alternative to lift up the mood of your loved one that will keep them sober yet rejoiced!
Guava Ginger Beer for a Spicy Kick in your day
Add a touch of spice to their day! This drink will remind them of all the moments that were bittersweet and you still chose to stick by!
Citrus Hot Toddy Cocktail Mix for a warm evening
The perfect combination of hot toddy and cocktail mix to warm up the day. The soothing warmth and citrusy notes of this drink make it a perfect choice for a cozy evening.

Delectable Dehydrated Blood Oranges for a burst of flavor
Savor the vibrant and tangy goodness of dehydrated blood oranges. These make for a perfect standalone snack or a delightful addition to cocktails, adding a burst of flavor and a dash of health.
Sparkling Strawberry Lavender Mixer for the perfect floral taste
Enhance the taste of any of your drinks with our sparkling strawberry lavender mixer. Its fruity and floral notes will transform any drink into a special and luxurious treat.

Rich Cheddar and Honey Snack Mix to pair with your drinks

The rich and savory flavors of cheddar combined with the delicate sweetness of honey allow you to indulge in the best snack for parties. This is one of the best snacks to pair with your drinks!

Fruit and Nut Energy Mix for a wholesome evening
The ideal snack to nibble on in your conversations! This is a wholesome and healthy snack that can be munched on in between toasts and conversation.
Floral Orange Blossom Honey to sweeten the day
Use this aromatic orange blossom honey to sweeten your drinks or snacks. Any culinary creation would benefit from it.


Gold Jigger and Cocktail Spoon for your house parties
The perfect cocktail requires these tools for measuring and mixing drinks for one of your party nights! You have all you need so call in a house party and make yourself feel better!
Remember, the most important thing is to enjoy yourself and make your guests feel welcome and appreciated. With the Joyful Co. Thirsty Box, your at-home happy hour can be a memorable and enjoyable event for everyone involved. Cheers to hosting a successful happy hour at home!